THE CLASSICS
Japanese cinema has been very popular in recent years, but it started more than 100 years ago. Today it is the Asian country that has won the most Oscars in the category of "Best Foreign Film", and has given much to talk about; not just in Japan, but around the world.
Next, we compile a series of our favorites; Japanese movies you must see before going to Japan.
Nobody Knows (2004)
Dare mo shiranai
Director: Hirokazu Koreeda
Koreeda is a name that comes up over and over again when talking about cinema. His film Nobody Knows is based on the true story of four children who were abandoned by their mother for nine months in an apartment in Tokyo. This film was first presented at the 2004 Cannes Film Festival, where it won several awards.
Other Koreeda titles recommended by the TRIP TO JAPAN team include Afterlife, I Wish and Like Father, Like Son.
Do not miss the opportunity to know Japan
[/ su_service]
[/ su_service] [/ one_third]
[/ su_service]
[/ su_service] [/ one_third]


[your_button url = "https://japantours.travel/contanos/" background = "# FF4A52" size = "5" wide = "yes" center = "yes" icon = "icon: external-link-square"] REQUEST BUDGET [/ su_button] [/ one_third_last]
Zatoichi (2003)
Director: Takeshi Kitano
Zatoichi is Kitano's masterpiece, in which the director plays a blind swordsman who comes to the defense of a town being extorted by members of a yakuza gang. The blind samurai is an original subject of Japanese narrative, and the film dates back to a series of films and television shows from the 1960s and 1980s. Zatoichi won the Silver Lion at the Best Venice Film Festival in 2003, as well as numerous other awards in Japan and abroad.
If you enjoy Zatoichi, our team also recommends Kitano's Dolls, Hanabi, and Brother.
Departures (2008)
Okuribito
Director: Yojiro Takita
One of the favorites of several team members is Departures, a 2008 film about an unemployed cellist who finds a job playing music at funerals. The protagonist struggles with prejudice due to strong Japanese taboos against people facing death, the same taboos that made it difficult for Takita to have his film shown in Japan. This all changed after Departures won the grand prize at the Montreal World Film Festival in 2008, then went on to win several more awards and became Japan's highest-grossing national film that year.
Seven samurai (1954)
Shichinin no samurai
Director: Akira Kurosawa
No discussion of Japanese cinema could be complete without a nod to Akira Kurosawa, the grandfather of the samurai genre. I may have selected one of Kurosawa's black and white marathon epics for this list: Rashomon, Ran, Yojimbo, The Hidden Fortress, Red Beard … But Seven Samurai is perhaps his most famous and recognizable work.
Consistently ranked among the best movies ever made, the plot follows a group of villagers who enlist the help of seven samurai to ward off marauding bandits.
Tokyo Sonata (2008)
Director: Kiyoshi Kurosawa
Tokyo Sonata is another film with an impressive number of awards to its name (Best Film at the 3rd Asian Film Awards, Prix Un Certain Regard at Cannes in 2008). Directed by Kiyoshi Kurosawa (no relation to Akira), it tells the story of a middle-class family in Tokyo that begins to fall apart when the father is fired from his job.
Tampopo (1985)
Director: Juzo Itami
A much loved classic of Japanese cinema. Tampopo tells the story of a couple of truckers who stop at a noodle shop on the way and end up mentoring the widow who owns the shop on her quest to create the perfect ramen. A rather strange comedy, the humor isn't for everyone, but it gives a fantastic insight into what a national obsession really is: ramen.
Godzilla (1954)
Gojira
Director: Ishiro Honda
Is there a movie more associated with Japan than Godzilla? Everyone knows the story of the giant dragon-beast dinosaur and pop culture icon who was born from nuclear tests and descends to wreak havoc in Tokyo. Many reincarnations have graced our screens since 1954 (last time 2014), and the Hotel Gracery in Tokyo recently erected a giant monster on its roof, all of which proves that the legend of Godzilla (or Gojira if you're Japanese) is far from being dead. On a serious note, the original Godzilla offers a metaphor for the nuclear bombings of 1945, just nine years before the movie was made.
History of Tokyo (1953)
Tokyo not monogatari.
Director: Yasujiro Ozu
This subtle black and white drama tells the story of an elderly couple visiting their children in Tokyo, where they find their offspring too busy to pay much attention to them. Frequently featured on the lists of the best movies ever made, this is a classic classic and essential for anyone with a keen interest in Japanese cinema.
All about Lily Chou-Chou (2001)
Riri Shushu don't get on
Director: Shunji Iwai
Everything about Lily Chou-Chou is not as cute as the title might suggest; in fact it is a moving film that documents the struggles of two boys to cope with teenage life: parents, bullying, sex and a vacuum of purpose. At the same time, it introduces the absurdity of Japanese pop culture, as exemplified by the idol of cyper pop Lily Chou-Chou. A haunting and insightful movie about growing up in modern Japan.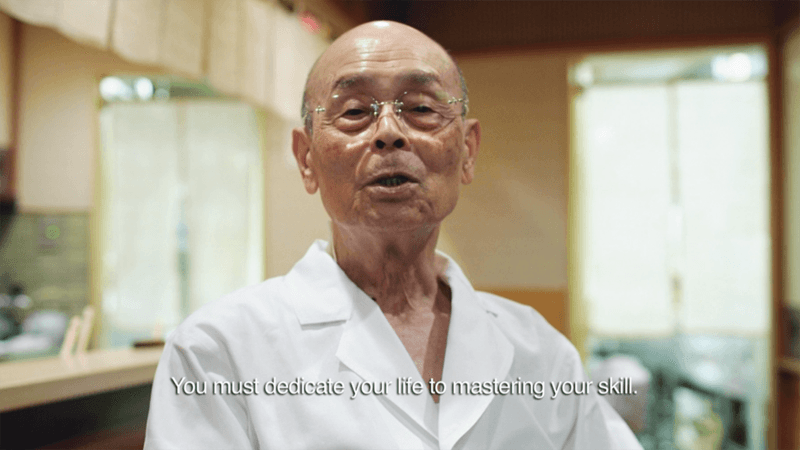 Jiro Dreams of Sushi (2011)
Dir: David Gelb
The last item on this list is not a movie at all, but rather a documentary, and the only footage on this list is not having a Japanese director. The documentary follows the daily life of Jiro Ono, a famous sushi chef who works at a Michelin-starred restaurant in Tokyo. Aside from feeling very, very hungry, his wonderfully directed documentary paints a picture of a man who has spent his entire life in pursuit of a single goal. It's a fascinating watch, even if you have no interest in sushi, and it gives you a fascinating insight into the famous (some might say notorious) Japanese work ethic.
These are just a few of the movies recommended by the Only One Travel staff, we came up with a much, much longer list! Keep your eyes open for more posts on the best books to read before traveling to Japan, and anime movies for people who don't like anime.
[/ su_service]
[/ su_service] [/ one_third]
[/ su_service]
[/ su_service] [/ one_third]


[your_button url = "https://japantours.travel/contanos/" background = "# FF4A52" size = "5" wide = "yes" center = "yes" icon = "icon: external-link-square"] REQUEST BUDGET [/ su_button] [/ one_third_last]